Ant Exterminator. Ant Control. Ant Removal.
Serving Beaverton, Oregon.
Ants are one of the most common pest problems here in Beaverton. My name is Ryan and I own Ant & Garden Organic Pest Control. I've been solving ant and other pest issues for over 20 years and provide quality, efficient, and guaranteed ant extermination services. I will quickly eliminate ants, show you likely spots where ants are entering your structure, and recommend ways to ensure your home and property stays ant-free.
Are ants a problem for you? We can help.
At Ant & Garden Organic Pest Control, we find the problem and deliver a solution. We are truly a full-service ant removal company. Our technicians are fully trained and licensed in pest control, pest removal, and pest prevention for your protection. We carry out pest control services using only OSHA safety standards. We provide exceptional and comprehensive ant extermination services any time you need them, even in an emergency!
COMMON ANTS IN BEAVERTON
The following ant species are found in Beaverton:
Carpenter ants prefer to nest and excavate water-damaged wood.
Odorous house ants emit a rotten coconut smell and infest kitchens and pantries.
Pavement ants nest under flat stones, sidewalks, and concrete slabs outdoors.
Moisture ants nest indoors, especially in areas of your home that are humid or where there's a water source.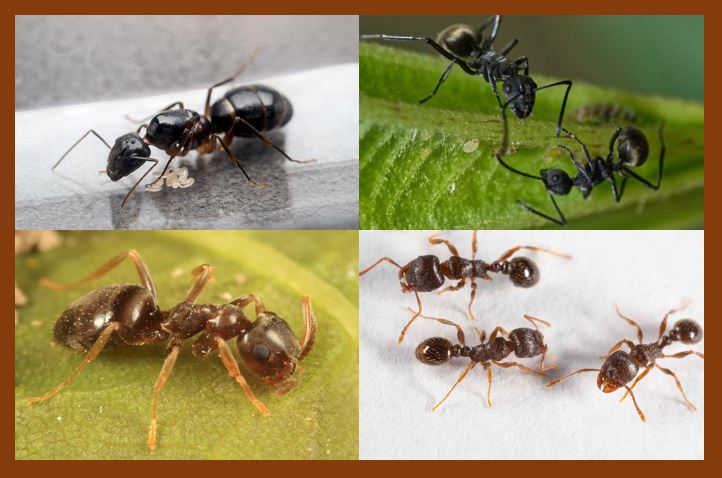 Beaverton's TOP TRAINED & FULLY LICENSED ANT REMOVAL TECHNICIAN
A leading residential ant pest control company, Ant & Garden Organic Pest Control's wealth of resources starts off with its proprietor and lead technician, Ryan, being a fervent advocate of natural and sustainable organic pest control. Ryan keeps himself abreast of all the latest in pest control technology, equipment, organic pesticides and the applications thereof, as well as discoveries and developments in pest biology.
Ryan also holds the most number of pest control licenses than any other person in Oregon. He consistently participates in training, testing, in-field supervision, and quality controls, keeping himself up-to-date on bulletins from the EPA, FDA, USDA, and State agencies.
Ant & Garden Organic Pest Control's same-day emergency services in the Beaverton area speak of our commitment to permanent ant removal and eliminating your pest problems whenever they arise.
Pest Control 24 hours a day – 7 days a week.
WE'RE THERE WHEN YOU NEED US!
OUR ANT PEST CONTROL GUARANTEE
We offer both a Total Satisfaction Guarantee for every treatment plus a 60-Day No-Pest Guarantee with your regular bi-monthly treatments. Emergency services are free in-between scheduled treatments in case any pest issue arises.
PEST CONTROL YOU CAN TRUST.
At Ant & Garden Organic Pest Control, we adhere to uncompromising standards of quality in every job we do. We work personally and collectively with our customers to ensure that the quality of service you get is the best in the industry.
We realize the importance of a company's commitment to quality, professionalism, proactive programs, and innovative products. Our reputation is known for innovation, safety, protection, and real results.
BEAVERTON PEST CONTROL EMERGENCY SERVICES FOR ANTS
If you've experienced multiple and separate occurrences of ant infestations, especially of stinging or wood-destroying ants, it's time to call a professional ant exterminator. If you've tried DIY treatments, you may not realize it but you've actually driven them further within your walls or under the foundation!
Once you have an ant problem, it can be really difficult to get rid of ants. Without the proper training and tools, eliminating these pests can feel impossible. Ant issues, no matter how small, can continue to grow if they're not properly treated.
Calling a licensed professional like Ryan at Ant & Garden Organic Pest Control is the best way to treat the problem. Ryan can also give you the best advice on how to prevent ant infestations in the future. Ant & Garden knows exactly what it takes to prevent ants from your living space – for good! Give us a call today and let us get rid of your ants!